If you're here looking for the post about my Grandmother, it is
here
, below this one. And thanks!
Now back to our regularly scheduled program.
Sayre at
SayreSmiles
is our host for Fun Monday this week. Her challenge to us is:
Brush off your interview skills. Talk to everyone who lives in your house. I want to know what their, and your, favorite piece of art is in your home. Photographs do not count. If there was a fire in your home, everyone would grab photographs, but what is the non-photographic piece of art you would grab on your way out - and why? (Edit: These don't have to be paintings - these can be wall hangings, statues, lumps of clay by your child, anything that is artistic expression of some kind EXCEPT photographs.)
Ok, I have to be honest. We don't have any "real" art around here. We aren't very artsy to begin with and due to time - and now money!- constraints the walls are currently pretty bare! I do have a few things which I like, though, and I'll share those with you today.
As far as saving something from a fire, this is probably the only piece of art I'd save: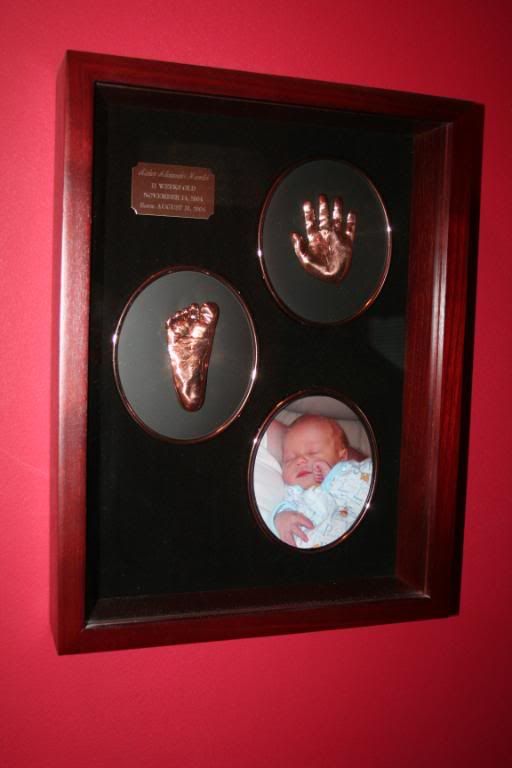 We had this made when Punkin' was 11 weeks old.
The Patty-Cakes
people come out to your house, do the impressions, and then the art comes in the mail. What a great package to receive. Besides, I love mail. Just look at the little hands and feet! It's just hard to believe those belong to the kid I have today!
This one hangs above the mantle in our living room. It is my favorite cross stitch project. Excuse the side view, but I've yet to figure out how to get a straight-on photo without a flash and my reflection marring it!
I said the Patty-Cakes was the only art I'd save but I'd probably save the cross stitch, too! It is Renoir's On the Terrace in case you were wondering.
This is also in our living room. I just loved the rabbits when I bought this and I still love them today. Hubby says we can't have rabbits, though, so I'll have to settle for the painting.
Close up of the rabbits - don't you just want to pet them, or give them a carrot or something?

This is hanging in our kitchen. Are you sensing an animal theme around our house? Punkin' isn't the only one who's animal crazy I guess! Everyone always asks if these are our cats. I'm afraid I can barely draw a stick man, much less sketch these beautiful cats!
Ok, thats about it I guess. Go over to
SayreSmiles
and check out the rest of the Fun Monday participants and enjoy!!! And while you're here, please read my prior post about my Granny and let your positive thoughts flow our way. Thanks everyone for stopping by!