You remember the cake decorating class I was taking?
Well, in the emotional funk I was in while the pregancy hormones were still flowing, I skipped one of my classes and didn't do any of my homework.
Then the night I was going to stay up all night and make my flowers I took the pregnancy test (positive) and of course could no longer think about cakes or flowers or anything not pink or blue and soft and sweet smelling.
Next morning I am up and begin making my flowers for my last class. Now these flowers are supposed to be made at least two days ahead of usage so that they can harden. Plus it is always helpful if you showed your sorry ass up for class to learn how to make them.
Anyway, I made flowers all day and this is how the cake turned out:

The flowers were soft and began to melt into the buttercream and I had no roses as I've skipped missed the night in both Class 1 and Class 2 where we learned how to make roses (how can you decorate cakes and not know how to make roses?), but I did like the purple daisys.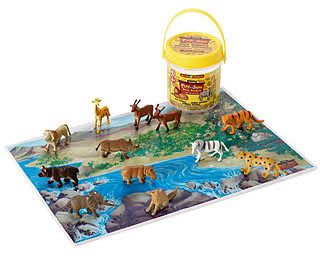 Now I need to order a sheet cake pan for my Punkin's birthday cake and start practicing. He wants this for his cake and hopefully it won't be too difficult and will turn out ok.
I'm attending a make up class, aka Roses for Slackers, and then I will be kicking the Wilton rose's ass!! Maybe Punkin's jungle cake will have nice spray of roses near the wildlife........